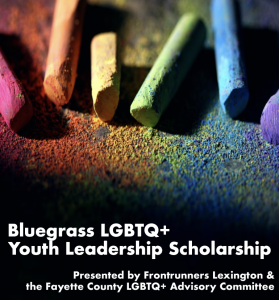 Central Kentucky Scholarships for LGBTQ+ Youth
F
rontrunners Lexington and the Fayette County LGBTQ+ Advisory Committee are excited to invite scholars to apply to receive one of two $2,500 scholarships for those attending post-secondary trade schools, community colleges, or four year degree programs.
Developing a generation of scholars and leaders is important to both Frontrunners Lexington and the Advisory Committee, and we are excited to reward those who are invested in ensuring the Bluegrass is welcoming to all who would contribute to it.
Applicants must be graduating LGBTQ+ seniors in public or private high schools, residing in either Fayette, Clark, Madison, Scott, Bourbon, Woodford, Harrison, or Jessamine Counties. The scholarships may be awarded to any qualifying student attending any post-secondary institution, regardless of location.
Application Process
S
tudents are to submit the required information to the scholarship committee by using the Google Form above, by the May 1, 2023 deadline.
Questions may be directed to run@frontrunnerslex.com.